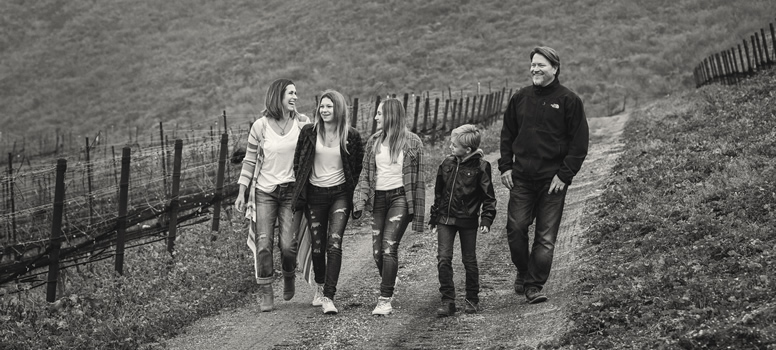 About Us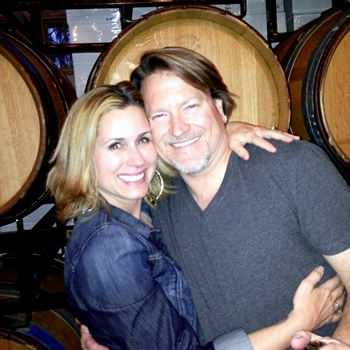 Mark and Wendy Horvath, long time Santa Barbara County wine industry people, have set out to create a very small, highly focused, family run winery where they could take the best fruit the county has to offer and gently coax it into bottle. Grapes from the most esteemed local vineyards, Babcock, Bentrock, Radian, Rita's Crown and Zotovich currently grace the wines. Crawford Family Wines embraces the "garagiste" style of winemaking by producing tiny lots of Pinot Noir and Chardonnay that provide a glimpse into the unique Sta. Rita Hills vineyards they come from.
Striving for authenticity in varietal character and a sense of place, they employ a minimalist approach to winemaking and let the fruit do the talking. Now, with a small Rhone program underway from the Ballard Canyon appellation, the winery is becoming more complete and a true showcase for these meticulously farmed vineyards.
Winemaker Mark Crawford Horvath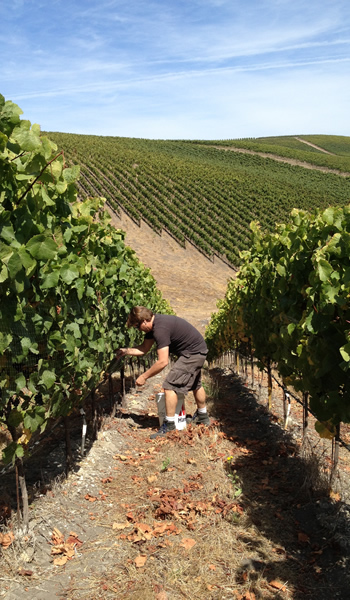 Mark Horvath began his winemaking career moonlighting with good friend and Master Sommelier Emmanuel Kimiji. The opportunity to taste and learn about wines from around the world, one on one, with one of the country's most celebrated Sommeliers helped Mark to develop a well rounded palate. Once bit by the wine bug he became obsessed with the idea of making wine himself.
Along with his wife Wendy, they quit their jobs and moved to Sonoma to immerse themselves in the wine business. Mark took a position at Carmenet Winery, high atop Moon Mountain in the Sonoma Valley. Hired on as a cellar worker he quickly moved from there to the lab and was able to experience and gain knowledge of many aspects of the winemaking process.
While at Carmenet Mark took most every course offered by UC Davis' extension program and it was during a four-day course in Viticulture that he met a group of young winemakers from Santa Barbara County. Their passion and excitement for this up and coming wine region was highly infectious. Mark and Wendy visited the Santa Ynez Valley many times over the next year and when Bryan Babcock advertised a position for an assistant winemaker, Mark jumped at the opportunity.
Santa Barbara County had yet to gain much national attention and the Sta. Rita Hills had not yet been established as an appellation and they found themselves quickly becoming a part of this relatively new winegrowing region. Mark stayed on at Babcock for five years and spent the last two as Bryan's Associate Winemaker, in charge of all winemaking responsibilities.
While at Babcock, Mark began a new winemaking project on the side with his great friend and colleague, Kenneth Gummere. They started with a single barrel of Pinot Noir from the 2000 vintage and with one delicious wine under their belts formed the partnership Kenneth-Crawford Wines. Over the next ten years they produced some of the regions finest and most sought after Pinot Noir, Syrah and Grenache.
Never wanting a dull moment and always looking to broaden his winemaking knowledge, Mark recently took over the winemaking responsibilities at Tres Hermanas Winery in Santa Maria. Producing as many as twenty-two different wines each year, including many Italian varietals, the opportunity is giving Mark a much wider spectrum of winemaking experience. All of these experiences have culminated in the creation of his most personal wine project yet, Crawford Family Wines.
In partnership with Wendy, they have set out to create a brand focusing on the world-class fruit of the Sta. Rita Hills and the joy that is had when the whole family is involved in making it.